An entrepreneur or freelancer has two main strategies to tap into when marketing online. Search Engine Optimization (SEO), which attempts to rank your website on search engines "organically", and Search Engine Marketing (SEM), which ranks your website in search results in exchange for money. Both strategies can be used to build a business successfully—but which one is right for you?
A great way to market your business is to use search engines to help your customers find you online. You will need a sales-focused website (e.g., one aimed at creating contact rather than one aimed at assuring customers that you are who you say you are) if you use this strategy; otherwise, your efforts will likely be wasted.
SEO vs. SEM
You have two ways to use search engines to help people find your website; search engine optimization (SEO) and search engine marketing (SEM).
Jim Yu, the CEO of BrightEdge says: "The key [to SEO and SEM] is to present the right content to the users at the time they need it in an engaging manner."
Search engine optimisation (SEO) can be incredibly powerful, but it's often too slow for a start-up who needs clients as soon as possible rather than in six months' time. It's cheap, but it's not free—as your time is worth money, too. SEO can be very effective in the medium to long term.
Search engine marketing (SEM), on the other hand, costs money but can deliver very rapid results. Your website must be optimized to make sales or at least drive a customer to get in touch so you can make a sale. Start-ups should approach SEM with care. Make sure you completely understand how much money you have exposed at any one time. Don't get carried away with the lure of quick victories. Start slow, and evaluate your results.
Search Engine Marketing – How to Use Keyphrases
Keywords and keyphrases are the essence of search engine marketing (SEM) and search engine optimisation (SEO) strategies. These are the words that people type into the Google (or Bing or whatever) search box to try and find information.
If you decide to use search engines to market your business, you'll need to determine useful keywords and keyphrases to do so.
Which Keyphrases should You Choose?
The most useful of these keyphrases are known as long-tail keyphrases. These are highly specific phrases.
So, for example, a short-tail keyphrase might be "Logo design". Putting that into Google will get you an awful lot of hits. There's a lot of competition for that phrase, and it's not particularly useful for your business, either. There are no buying signals in the phrase – so many people will use this phrase to learn about logo design or to examine other aspects of logo design work.
A long-tail keyphrase might be "Buy logo design in Atlanta, Georgia"—this gives a clear indication of a buying intent, and, better, it also gives a geographical location. If you're based in Atlanta, Georgia, and you sell logos—if this phrase brings your website up in a search, then you're going to be in with a chance of winning some business.
Best Methods for Choosing Keyphrases
Identifying useful keyphrases is challenging. The most commonly used method is to visit Google Adwords and to enter a keyphrase.
You can also place speech marks— " "—around the phrase to see if you get a more specific set of results. The speech marks ensure that the search engine looks for the exact phrase rather than similar phrases.
E.g., Put "Buy logo design in Atlanta, Georgia" as opposed to Buy logo design in Atlanta, Georgia.
This will give you an indication of how many times a search is performed in a month (low numbers are not very useful unless there is a very clear buying signal in the keyphrase – working hard for five hits a month is not recommended in most cases) and how much the phrase is "worth" per click to advertisers (e.g., how much someone will pay to use that keyphrase). The more it's worth, the more likely it is that the phrase is delivering business results for someone.
There are also many keyword research tools (some free and some paid) that claim to take the effort out of this process. A popular tool for first timers is Traffic Travis, which can also analyse your competitors' sites for their keyword optimization strategies and, as a bonus, it can deliver detailed analysis on their back-linking strategy, too. You can also use Moz.com's incredibly useful keyword research tools – they're the industry leader, but they come at a somewhat higher price.
If you're using SEM as a strategy, you'll need to test and evaluate your keywords. A good rule of thumb is that for every 100 clicks you get, you'll get between 3 and 10 enquiries. So, to conduct an efficient test, you'll want to test around 1,000 clicks. That means setting your budget for Adwords at 1,000 times the cost of the click. If you find that this is going to cost too much, you'll need to find other keywords or a different marketing strategy.
It's very easy to go broke running an SEM campaign. A click can cost a few cents to a few dollars. The value of the SEM campaign can be calculated by the following:
Value of Campaign = Total Value of Orders Arising from Campaign – Cost of Campaign
So, if you get $5,000 of orders from $500 worth of advertising spend—the value of the campaign is $4,500 to you.
If you get $500 of orders from $5,000 worth of advertising spent, the value of the campaign is -$4,500. A negative number means you're losing money on the campaign.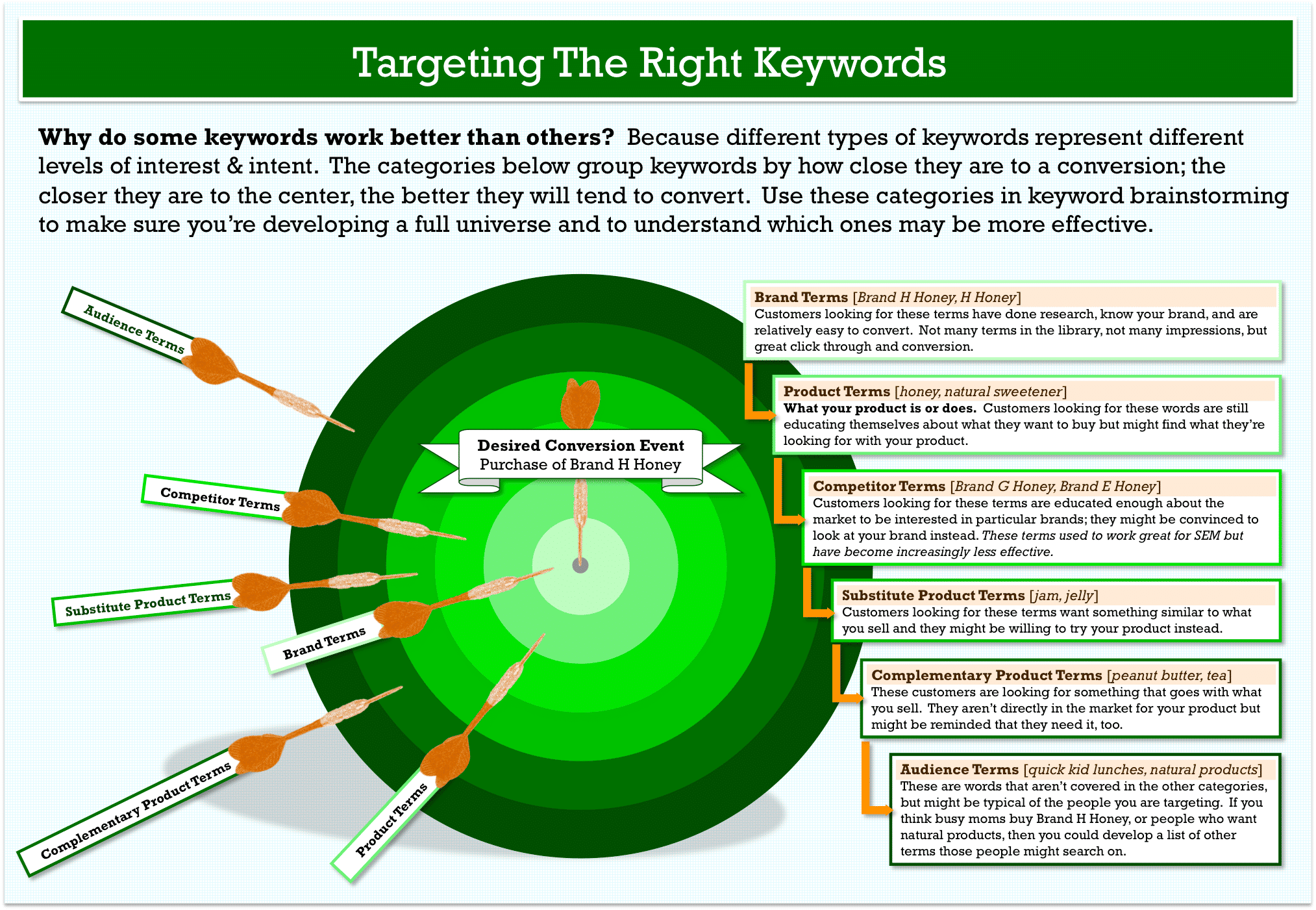 Author/Copyright holder: Kissmetrics. Copyright terms and licence: All rights reserved.
Choosing keywords and keyphrases is a science in itself. You might want to spend some time evaluating how to choose those keywords and keyphrases before committing to anything in terms of SEO and SEM.
Search Engine Optimization – a Cheap, Slow and Solid Marketing Strategy
Search engine optimization (SEO) receives a lot of love from inexperienced marketers. It's seen as "free marketing" in that you can handle your own SEO work (as long as you follow some rules to do so), and thus all it requires is your time to make things happen. SEO is simply what you do to your website and web pages to make them show up in "organic" (or unpaid) search results on search engines.
Unfortunately, SEO is also a slow process. You can make "quick wins" in markets which are ill-established using SEO, but the truth is that the vast majority of useful keyphrases (including long-tail keyphrases) in competitive markets will already have been optimized for. It is likely to take a significant amount of time to get to a useful place in search results for these phrases. In some cases, it may take months or even years of concentrated effort to win the battle for highly competitive keyphrases.
What is a useful place in search results? Ideally, you need to be in the top three search results returned. More than 70% of searches are resolved in these three results, while 90% are resolved on the first page of results. So, if you're not in the top three, you're going to find you're missing out on the majority of potential business—and if you're not on the first page, you're going to miss out on nearly all potential business.
If you want to build your business by solely using SEO as your marketing tool, you may well be better off staying in your current job and doing SEO work in your spare time until you start achieving the results you need in a search. SEO is a poor launch strategy for marketing for a new business.
However, if you are going to use SEM to build your business in the first instance, it's worth pursuing SEO as a slow-burning strategy to replace/complement SEM in the longer-term.
How to Get Started Using SEO
SEO is a complex discipline and at the cutting edge. Encyclopaedic volumes of information regarding how to use SEO buckle bookshelves in libraries and stores with their weight.
We can't cover all of that in this article, so we'll stick to the basics, which breaks down into two categories on-page SEO (the work you do on your website) and off-page SEO (the work you do on the rest of the internet).
This will help you get started with SEO, although if you intend to pursue this as your main marketing strategy, we highly recommended that you read up on the more complex aspects of SEO as soon as you have the basics in hand.
How to Use On-page SEO
On-page SEO is the work you do on your own website to get a high rank in search engines. Your goal is obviously that your website will show on the first page and perhaps even among the first three search results. On-page SEO does not carry as much weight as off-page SEO in the rankings, but if you don't get the basics right… it's unlikely that your off-page SEO will deliver results, either.
Checklist for Your On-page SEO
This list is not in order of priority, and it should be used as a checklist for your on-page SEO:
Content is king. Your content needs to be written so that it provides value to your audience. It should be a mix of long and short posts on your blog or website. You should not try to "keyphrase stuff" (mentioning a keyphrase over and over again to try and attract search engines) as this gets penalized by search engines now. However, your text should contain the most important keyphrases at least once and ideally two to three times—ideally, it should appear in your title. However, readability and value are much more important than keyword positioning today.

Complete Meta descriptions. The Meta description is not a huge ranking factor, but it is the text that people will see in search engines about the piece. Make it well written and see more visitors for it. Meta descriptions are HTML codes – you can find a link to HTML codes and how to use them at the end of this article.

Title tags. Try to use your keyphrases (where practical) in your titles. Keep it shorter than 70 characters if you can. Make sure titles are natural and readable.

Heading tags. Always use H tags to optimize your content layout. Try and use variations on your keyphrases in some headings, too. Don't repeat keyphrases in headings unless it's absolutely necessary. (This doesn't stop you from needing to repeat the keyphrase in the body of your content). H tags are HTML codes – you can find a link to HTML codes and how to use them at the end of this section.

Don't duplicate content. Even if you have a clever CMS (Content Management System) that lets you create multiple URLs for a single page, don't do it. Google hates repeated content and delists it from searches. If you must create multiple URLs… you'll need to research canonicalization first.

Create readable URLs. Many CMS systems have an option to create URLs from header text – if yours does switch it on. Otherwise, you may need to do this manually. Yoursite.com/why-you-should-invest-in-a-logo is much better than yoursite.com/1.2.Index.

Check your robots.txt file. Make sure you learn how to hide content you don't want indexed from search engines and that search engines can find the content you do want indexed, too. (You will want to hide things such as repeat content, which can be penalized by search engines but is still necessary on your site). You'll find a link to how to modify the robots.txt at the end of this article.

Use a responsive or adaptive theme for your website – these are themes specifically designed to change their shape depending on the device used to access the website. Older themes won't display well on mobiles and get lower rankings in a mobile search because of it.

Learn to use alt tags on images. You can SEO your images, too, if you learn to use the tags on them properly. Again, don't spam your keyphrases, but do use variants on a theme by all means.
You may need to create an awful lot of content with respect to each keyphrase—depending on the levels of competition for it. These basic rules are not for the whole of on-page SEO but should be enough to get you started.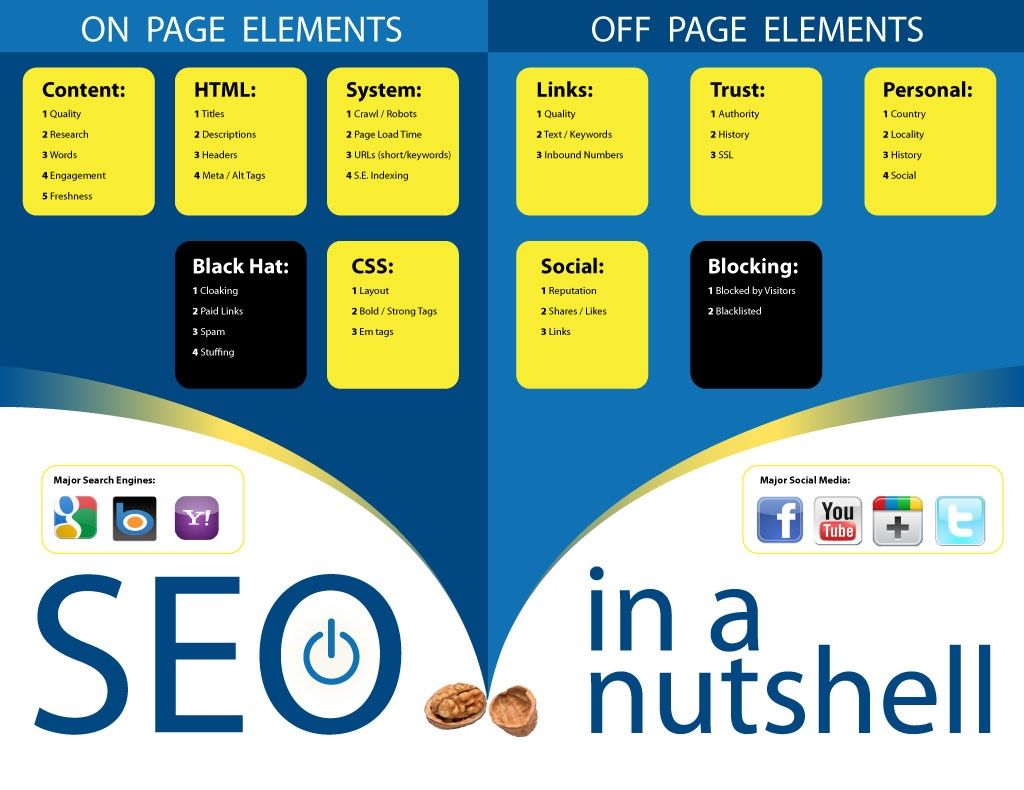 Author/Copyright holder: NeilPatel. Copyright terms and licence: All rights reserved.
SEO looks pretty simple at first glance, but the more you get under the hood, the more complex it becomes. It also takes a lot of time to be successful – it's why we don't recommend starting your marketing only with SEO.
How to Use Off-page SEO
And if all that on-page work wasn't enough, you also need to work on off-page SEO. Fortunately, this can be summed up in a single main idea—creating backlinks. What's a backlink? It's simply a link on any other website than your own that links back to your website.
However, before rushing off to create 10,000 incoming links, you need to know some basics. Again, backlink building is a complex area (much more so than we have space for here), so if you want to get heavily into SEO, you should read up on it once you've mastered the basics.
First, it's important to know that not all backlinks are created equal. Those published on PR0 ("PR" stands for "page rank"—the "0" means the lowest value) sites offer very little weight in search; those published on PR9 (the highest page rank) sites offer very great weight in searches (in fact, a single backlink on a PR9 site might be enough to deliver top-three rankings for a keyphrase in some cases). Examples of high page rank sites include Wikipedia, the BBC, The New York Times, Mashable, etc.
Page rank is an assessment of the authority and value of a website in Google's algorithm. You can find plug-in tools for your browser or online tools (see the references section for links to some of these) to check the page rank of any given site. You can also check your own website's page rank. The higher the page rank, the more likely it is that your SEO efforts are succeeding.
Note: Very high page ranks – those above 6 – may be out of reach for a single freelancer; they tend to be awarded to massive sites with tons of useful data, so don't despair if you get stuck at page rank 5 – that's an incredible achievement.
How to Create Your Backlink Strategy
Once you know this, you can start to create a backlink strategy which affords a mix of sites. PR0 sites are not completely worthless, and your linking strategy should be natural – which means you want links on PR0, PR1, PR2, etc. sites as well as the heavy hitters.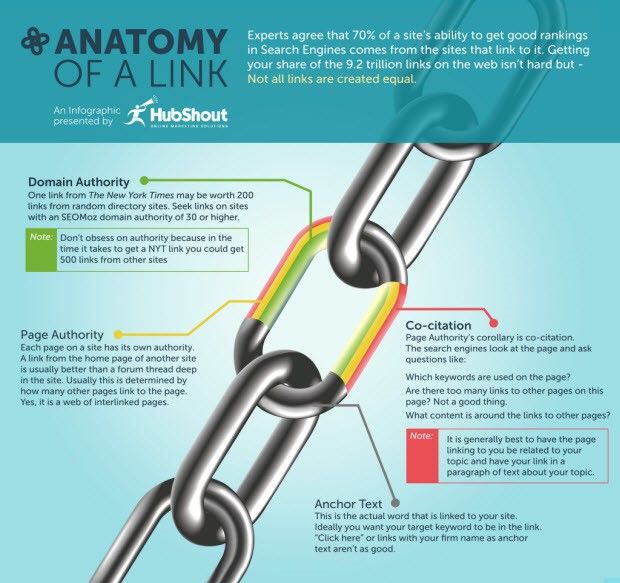 Author/Copyright holder: Backlinks.com. Copyright terms and licence: All rights reserved.
Backlinks are the key to successful SEO. Creating backlinks is time-consuming at first, but if you create great content, it eventually becomes easy as other people will do it for you.
What do you need to know about backlinks?
The text of the links should be varied, and no more than 30% of your backlinks should contain your keyphrase, while no more than 30% should contain variants of that phrase – the rest should be "click here"-type links.

One attribute assigned by some websites to links is called rel="nofollow"; strictly speaking, this means search engines are supposed to ignore the link in their rankings. In practice, they don't, and they expect to see a natural mix of nofollow and dofollow links – a 30%/70% split is probably ideal here. You can find a link to how to create these HTML tags at the end of this section.

Similar content matters. If your links come from blogs, websites, etc. related to your own content, then they will be weighted much more heavily than if they are spammed at random around the internet.

Black hat SEO is to be avoided. This is basically link spamming. You can pay somebody peanuts to do this on your behalf and, for a very short period, it brings results. Then Google sees what's happened, and they delist your site permanently from search engine rankings. Now, you need a new website and new content, etc.—so, black hat SEO is a terrible idea.
Backlinks and social media
The other place where backlinks occur a lot is on social media. If people are sharing, liking, etc. your content on social media, the search engines take note and give you a boost in the search rankings for it.
That means if you're going to focus on off-page SEO, you'll also have to learn to do a bit of social media marketing in the long run. However, it's probably best to master the basics of SEO (if it's your main strategy) before getting bogged down in learning another form of marketing.
Getting Backlinks
The best strategy to get backlinks is to create great content and let other people promote your content. However, to get started, you can create your own links to content on your social media platform, ask your friends to share your content on their websites and social media, and if you can find questions in forums that your content answers, you can always post it there.
DO NOT SPAM. Seriously, don't spam your backlinks. There's nothing worse than a spammer, and it won't help your marketing in the slightest. If you're going to place a link to your content on another site, make sure it's useful, and make sure it's in keeping with the rules of the site. Courtesy and respect count hugely.
Search Engine Marketing – an Expensive and Effective Marketing Strategy
Search Engine Marketing (SEM) is a way to get results without expending tons of effort on SEO. The vast majority of marketers who opt for SEM as their first marketing strategy will, in the longer term, also work on their SEO. Why?—because SEM costs money, sometimes a lot of it; SEO enables them to work on reducing their SEM costs over time.
How does it work? In essence, you use Google Adwords (or another search engine's equivalent – depending on the market you work in; in China, you'd be looking at Baidu, for example) to place bids on keyphrases; you write an advert based on that keyphrase; the search engine places the advert near the top of the search rankings, and you pay the amount of the bid every time someone clicks on your advert.
Normally, there will be competitors for the keyphrase, and the more you are willing to pay per click, the more clicks you'll likely receive.
SEM can be a dangerous game to play if you don't start slowly. Dip your toes in the water with low-cost-per-click campaigns, and limit your overall spend (to say $50 or $500 depending on your budget). Examine the results you get before committing huge amounts of money to SEM.
If you're getting the clicks but not converting sales—look at your website. How can it be improved to facilitate sales?
If you're not getting the clicks… you may need to invest more money per click. As you might expect, there are algorithms in play for SEM. Also, the more you pay, the more likely you are to be served with high-value (in terms of potential spending with your business) clicks. Or, you may just need to re-evaluate your keyphrase – maybe it's not as popular as the figures, provided by Google Adwords, suggest?
Google Adwords and most other SEM providers offer in-depth tutorials on how to use their SEM tools effectively, and they're worth going through if you intend to spend money on SEM.
The alternative might be to hire an Adwords professional to help set up your initial campaign and to get things heading in the right direction. This may cost a little more, but if it can cut down your time and effort to winning business, it's worth it.
If you are going to use SEM, you must build the costs of using this form of marketing into your cash-flow forecasts and the prices you're charging for your work. Spending $3,000 a month on Adwords to land $20,000 of business is eminently sensible in most cases. Spending $3,000 a month to land $3,500 of business, on the other hand, is likely to be a disaster for your business's ability to trade effectively in the long term.
SEM can be a great way to get instant sales for a start-up business. Many start-ups aren't comfortable with "active" marketing such as telesales or walking into a business and asking to speak to a buyer; SEM is probably the most effective "passive" marketing technique in terms of its ability to bring fast results.
Don't forget to stop any SEM campaigns for a while if your order book is full to bursting for the next three months. Winning business you can't handle is pointless, and the risk of overcommitting yourself might compromise your work's quality—and your reputation.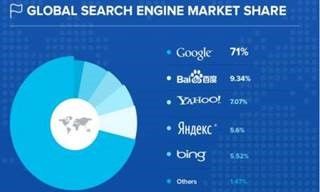 Author/Copyright holder: Haymarket Media, Inc. Copyright terms and licence: All rights reserved.
Don't forget that not all markets use the same search engines – Google may be number one in the world, but it's nowhere in China (for example).
The Take Away
Search engines are a great way to find business online. They offer "passive" marketing approaches for those who don't want to get into "active marketing". SEO can be incredibly powerful, but it's often too slow for someone who needs clients today (rather than in six months' time) to be a good marketing strategy when you launch your business. It's cheap (though it's not free – your time is worth money too), and it can be very effective in the medium to long term.
SEM, on the other hand, costs money but can deliver very rapid results. Your website must be optimized to make sales or at least drive a customer to get in touch (GIT – in marketing terms) so you can make a sale. You should approach SEM with care and make sure you completely understand how much money you have exposed at any one time. Start slow and evaluate your results.
References & Where to Learn More
Hero Image: Author/Copyright holder: Pixabay. Copyright terms and licence: CC0
Find out more about meta tags and how to use them.
Find out more about H tags and how to use them.
Find out more about the nofollow tag and how to use it.
Learn how to use robots.txt.
You can check your site's page rank here or here.