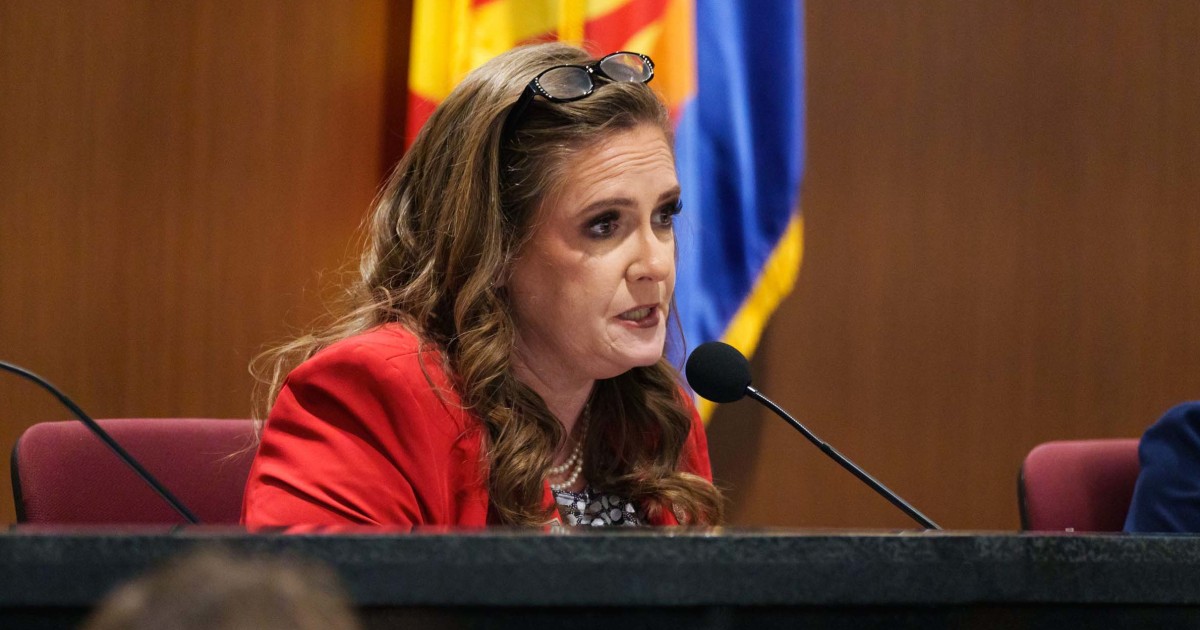 A Republican legislator in Arizona was expelled Wednesday after she invited an election denier to provide testimony laced with unsubstantiated allegations that various elected officials were involved in bribery schemes that affected the outcomes of the 2020 and 2022 elections.
Rep. Liz Harris was ousted in a 46-13 vote, clearing the two-thirds majority needed for removal.
An ethics panel released a report Tuesday saying she "committed disorderly behavior" and damaged "the institutional integrity of the House."
The House ethics panel launched an investigation into Harris, prompted by a complaint from a Democratic legislator, after she invited insurance agent Jacqueline Breger to promote a series of unfounded allegations at a televised legislative hearing on elections.
At the Feb. 23 hearing, Breger claimed that "bribes and infiltration have been used to affect the outcome" of the 2020 and 2022 elections, and she pointed the finger at state officials such as Democratic Gov. Katie Hobbs, according to the ethics committee report.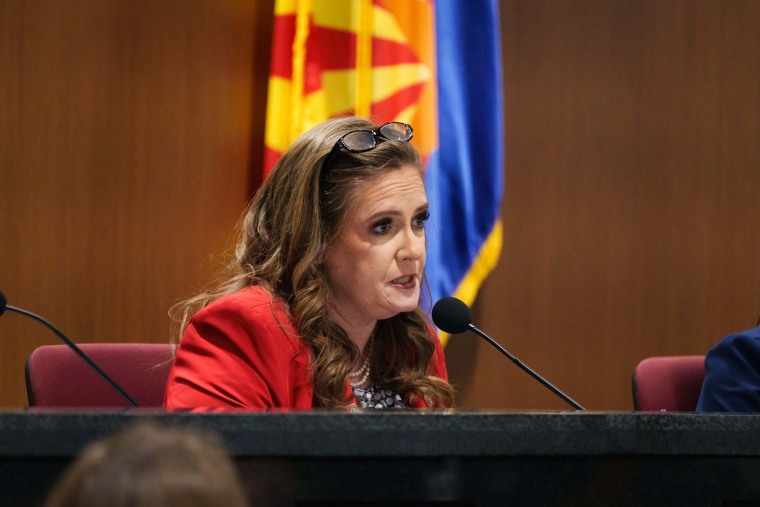 Rep. Liz Harris hearing at the Arizona state Capitol on Feb. 23, 2023, in Phoenix.Megan Mendoza / The Arizona Republic / USA Today Network
Breger also claimed that the Church of Jesus Christ of Latter-day Saints "control[s]" government agencies and was "integral to the laundering activities," the report said.
Harris, who was a member of the Municipal Oversight & Elections Committee, had proposed the joint hearing with the Senate Elections Committee.
The ethics committee said that Harris was "not surprised or upset" by Breger's testimony and that she expected the presentation would be shut down, according to a review of text messages she exchanged with Breger that were revealed over the course of the panel's investigation.
According to the committee's report, Harris said in testimony defending her conduct last month that she believed Breger's presentation would be narrowly focused and that she had directed Breger "not to impugn any legislator" or refer to "any religious institution."
Breger did not immediately respond to a request for comment.
Speaking to reporters after Wednesday's expulsion vote, Harris said: "I stand for honesty and integrity. The [ethics] report is a lie."
Efforts to reach her for further comment Wednesday night were unsuccessful.
The Tennessee Legislature last week expelled two Black Democrats, Justin Jones and Justin J. Pearson, for protesting gun violence. Both state representatives have since been reinstated. It is unclear whether Harris will seek to rejoin the Arizona House.
In a statement Wednesday, House Democratic leader Andrés Cano said Harris' actions were "reckless and unbecoming of any elected official."
"The defamatory allegations that Representative Harris invited her guest speaker to make are patently absurd, but there are many people who believe them. They believe the lies, and they continue to threaten retribution because we dispute them," Cano said. "They believe those lies because a State Representative, Liz Harris, platformed and legitimized them in a televised legislative hearing."
Conspiracy theories have plagued Arizona in recent elections. In the governor's race last year, Republican Kari Lake repeatedly promoted false claims of election fraud and later failed in a legal battle challenging her loss to Hobbs. Two years earlier, President Donald Trump and his allies pushed election fraud claims in the state, prompting a Republican-led review of ballots in Maricopa County.
State Rep. Alex Kolodin, who voted against Harris' expulsion, told NBC News that while Breger's presentation was "improper," he wanted to respect the voters.
"The voters of her district knew what they were electing," Kolodin said. "They knew she was going to go down and do some controversial and inflammatory things, and it's not my place to second-guess the wisdom of the people who put her in office."